A Q&A with Clarissa Myers, Equestrian Director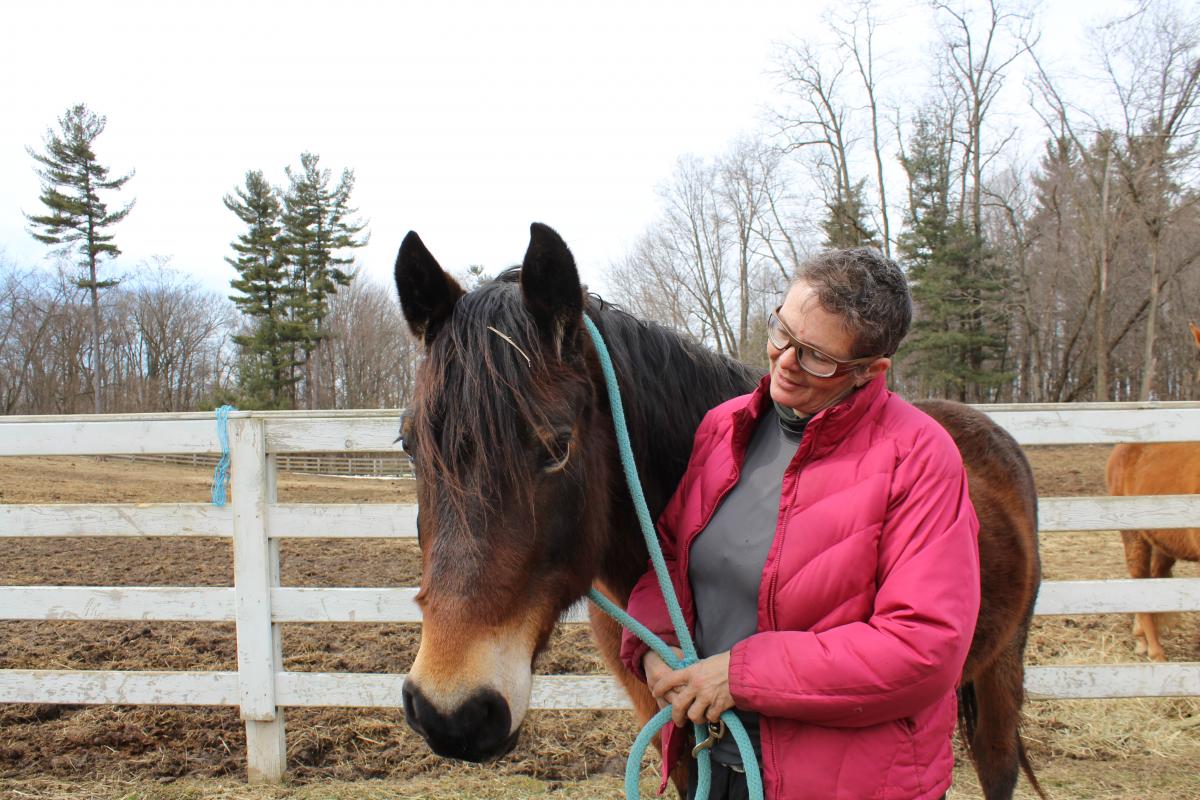 Clarissa Myers wants to grow old with the horses.
"This is absolutely my forever job," she said on a recent day out at YMCA Camp Eberhart.
Clarissa is the equestrian director and handles all things out at the horse barn. Soon, she will move from Three Rivers to Camp Eberhart and set up a permanent home base.
"I've wanted to live at camp for 20 years," she said.
The Y's marketing team recently sat down with Clarissa to talk about her love of horses and camp.
First, tell us a little bit about your background.
I grew up in Battle Creek. I went to Hillsdale College and Western Michigan. I never finished; I just kept switching around to different things. I always wanted to work with horses, and I kept trying to, but then I'd get pulled back to do a "real career."
I was a substitute teacher for a few years. I did day care a couple of different times. I was a zoo keeper for 14 years in Three Rivers and I absolutely loved it. It was amazing. It was almost as wonderful as camp. I tried to do both and I couldn't, so now I'm only here.
I have one child who is 24. She lives in Indianapolis. She's amazing and wonderful.
How did you start working at Camp Eberhart?
I worked in the equestrian department for a few years while my daughter attended camp. I loved it so much. Then, I got pulled away for a while, then got pulled back in. I've been here off and on for 20 years.
What keeps you coming back every day?
Horses have been my life-long passion, and camp has been my second. Camp is where I feel most at home. Any camp, but I love this one. This puts my two favorite things together and there is just nothing better.
What's a typical day like for you in the summer and in the off-season?
The summer is crazy, busy, and amazing. I wake up and feed the horses. Then I entertain/teach children. I try to combine those things because if they're not entertained, they don't learn. That goes from 9:00 AM-5:00 PM. Then, of course, feed horses again and fall asleep immediately.
This time of year, I try to spend time in the office and get ahead on scheduling, planning, and making learning materials for the summer. Homeschool classes have started and those are really fun.
Do you have a favorite horse?
I have a lot of favorites. Sage belonged to me and my daughter. She is great fun. She is a mustang; she was wild and has all the thoughts. Then, Solo is probably my favorite to ride because he's very tall. He's a thoroughbred, and I grew up riding thoroughbreds off the track.
Do you have a favorite camp activity outside of horses?
I love the High Ropes course.
Did you go to a camp as a kid?
I went to Camp Henry, which is up in Newaygo. I went there only one year with a friend, and it was the best part of my entire childhood. I think I spent two weeks there and it affected my entire life. It's weird how camp can do that. I also went to Girl Scout camp, and that was almost as cool, but Camp Henry had horses.
Is there anything you're looking forward to about this summer at camp?
Denise is doing amazing things. All of the staff training she is planning, and the support that she gives to the staff, makes camp so much more amazing. Everyone is here to do their best and now they're going to have all of the support to make it better. I want to see it flourish. I think it's going to amaze us with how good this summer is going to be.
Monday, May 9, 2022 - 12:27pm